At Tate Shops, we're working hard to minimise our impact on the planet. There's a lot of work to do, but we're making positive changes, and we'll keep at it.
---
---
THE STORY SO FAR
Our gallery shops and distribution centre are all powered using a renewable energy tariff.

All of the packaging we use in our Distribution Centre is recyclable.

We use corrugated card for padding, never bubble wrap, all of our cardboard packaging is made from recycled card or from Forest Stewardship Council (FSC) certified sources, and our tissue paper is also acid- and chlorine-free.

We reuse any packaging we receive from our suppliers whenever possible, minimising our overall waste levels.

All Tate Publishing books are made from FSC certified or recycled paper and use vegetable based inks, and are now all produced without plastic shrink wrap.

Our sales catalogues are all now digital too, reducing our paper use.

All of our art prints and posters are printed on FSC or a hemp and recycled cotton blend paper, and packaged using non-plastic degradable materials. Our custom prints and frames are printed and hand-assembled in our Sussex-based workshop, using responsibly sourced wood and paper.

We've begun switching all of our cotton products to recycled or organic fair trade cotton only, and our cotton/poly blend t-shirts are now made using recycled polyester. A partnership with sustainable manufacturer Teemill means that our custom print clothing t-shirts are all printed on demand, using organic cotton, recycled water and vegan inks in a closed loop system.

Coffee by Tate champions small co-operative growers, who share resources, skills and knowledge to produce their unique blends, which is then roasted on-site at Tate Britain. You can watch the Story of Coffee by Tate.

We use couriers who have made a definite commitment to reducing their environmental impact. From moving to electric vehicles, to measuring air pollution in 6 major cities around the UK: read all about DPD's Green pledges.
DID YOU KNOW?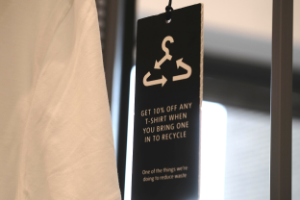 We run a circular economy t-shirt project in all our shops across all 4 Tate galleries. Bring in an old t-shirt to any Tate Shop and we'll make sure it's recycled or reused, in partnership with 360 recycling company LMB. As a thank you, you'll get 10% off a new Tate t-shirt, which we hope will last a lifetime.
---
OUR CLIMATE COMMITMENT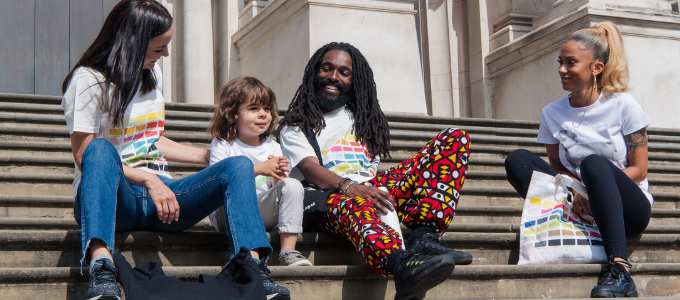 There's a lot more to do. For all Tate produced books and shop products, we're committed to making sure that:
We remove all single use plastics, replacing any necessary packaging with card, paper or home compostable materials.

We use FSC, recycled or hemp/recycled cotton blend papers only.

All of our cotton products will use responsibly sourced organic cotton.

We champion sustainable and small businesses wherever we can.

We source products as locally as possible, reducing our carbon footprint.

We use the Tate Code of Conduct, to make sure that all of our suppliers also uphold our commitment to sustainability, social responsibility and diversity+inclusion, as well as maintaining global ethical standards, fair dealings in the supply chain, and employment and welfare standards.
DID YOU KNOW?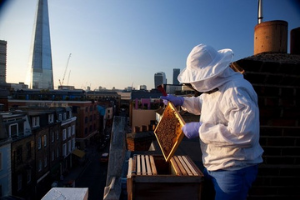 The honey sold in our shops comes from our own bees, housed on the roof of Tate Britain and Tate Modern. We're planning to partially re-wild our green spaces, encouraging biodiversity and further benefitting our bees.
---
MOVING FORWARD
| | | |
| --- | --- | --- |
| | Organic cotton clothing, solar-powered lamps, FSC certified paper books and more environmentally-conscious products that don't cost the Earth - shop some of our favourites. | |
| We know there's no quick fix. We'll keep working and exploring improvements we can make, and we'll share these with you as they evolve. We also welcome any feedback or suggestions you might have to help us on our way – you can email us anytime with your ideas or comments. | | We declared a climate and ecological emergency in July 2019, recognising the unique role art and art museums can play in creating fundamental societal change. You can read more about our progress and commitment. |
| | |
| --- | --- |
| | We know there's no quick fix. We'll keep working on and exploring improvements we can make, and we'll share these with you as they evolve. We also welcome any feedback or suggestions you might have to help us on our way – you can email us anytime with your ideas or comments. |
| | Organic cotton clothing, solar-powered lamps, FSC certified paper books and more environmentally-conscious products that don't cost the Earth - shop some of our favourites. |
| | We declared a climate and ecological emergency in July 2019, recognising the unique role art and art museums can play in creating fundamental societal change. You can read more about our progress and commitment. |
---